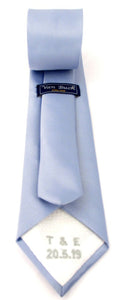 Personalised Wedding Tie Silver Embroidery On White Tipping By Van Buck-Embroidery Only
Van Buck England
Regular price $26.00 Sale
Please note the price for this excludes the tie and the tie required must be ordered separately. Each tie is made to order and is non-refundable.
White tipping with your initials for example 'T&E as well as the wedding date below embroidered to complete a neat and simple personalisation.
Van Buck are beginning to personalise their ties to make them extra special for every occasion. The ties are embroidered on the tipping of the tie and are available in a selection of colours and designs of your choice. There are no minimums.
When placing your order please ensure you send us a confirmation of the names and dates you require for each tie.
Orders with personalisation may take up to 6 weeks to be delivered.